Automechanika Dubai acts as the central trading link for markets that are difficult to reach, connecting the wider Middle East, Africa, Asia and key CIS markets. Over 1,800 exhibitors from 60+ exhibiting countries showcase the entire spectrum of the automotive aftermarket- parts & components, electronics & systems, repair & maintenance, tires & batteries, accessories & customizing and car wash, care & reconditioning,Body & Paint and Oils & Lubricants, as well as special features at the show with exhibitors catering to agricultural parts and equipment, motorcycle competence and truck competence. Engage with key industry experts and stay up-to-date on the industry trends by connecting and learning at our Automechanika Academy.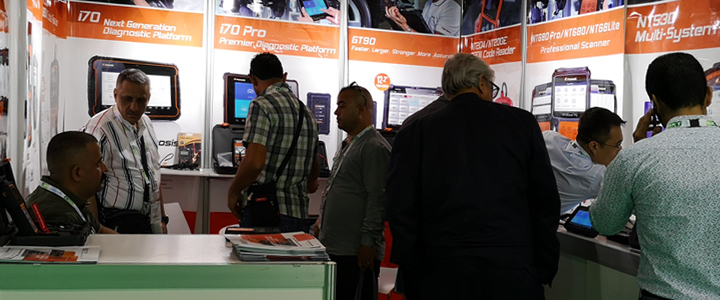 During June 10 to 12, Foxwell, as a regular attendee, exhibited at this fair with its newly published products GT90,i70Pro,NT680 etc, stood out of various diagnostic product suppliers.Here we take a brief look at these newborns.
GT90
GT90 is a comprehensive automotive diagnostic platform. It delicately designed based on a 12.2" Windows 10 system tablet computer. It covers 70 car makes and supports all electrical systems diagnosis. Accuracy and response speed are greatly improved. Advanced functions as system/component-level bi-directional control and programming are added.  
i70Pro
I70Pro is a 8" tablet scanner based on Android system, it delivers faster and smarter disgnosis for workshops and technicians. Through the hardware and software upgrades, technical staff can now approach problems with greater speed and accuracy, and product comprehensive, professional reports.
Automechanika Dubai 2019 is a successful trade fair for Foxwell. The number of international buyers attending and visiting our booth continues to rise this year. And it will continue to be an important source of meeting with our customers and a platform where we present our new achievements to the world.